Welcome to 2016! Clearly I've been floating far away from this corner of the galaxy for a while–getting buffeted by strong winds on all sides.
First, I accepted a new day job. The interview process, which stretched across the entire holiday season, was the most arduous and exacting of my life so far–to say nothing of the avalanche of work that subsequently descended upon me at my current position. But at the end of the day, I'm going to be writing for a living! So that's a huge coup for my personal and professional life. Even if the trauma of resigning (what can I say, I hate disappointing people) basically caused me to gain two pounds in half a day due to stress cortisol.
Then the downside of the rollercoaster: not two days after all this came to a head, an intruder broke into my home while T and I were asleep. P had left for work and the thief must have thought the house was empty. As soon as he saw us he walked out the front door without disturbing us–but not before he grabbed my large work handbag with my entire life in it. So this past week has been a flurry of phone calls (on a landline because I have no cell phone, GAH) to banks, credit card companies, identity theft professionals, the DMV, insurance agencies, the police, and basically everyone I've ever been in contact with.
On top of that, we're looking at the prospect of moving–and by extension elementary school selection (charter school choice for most districts starts around now). And of course, just because a bunch of my money got stolen, and it's my birthday in two weeks, my car decided it needs $2000 worth of repairs in order to pass emissions.
It's enough to drive a girl to drink–but dammit, I don't have any ID.*
*Kind souls, when they hear my story, keep asking what they can do to help. Answer: please bring me a bottle of Ketel One and/or Buffalo Trace. 
Anyway. All this to say that I haven't found time to post lately. I'm sure you're utterly bereft. So I've compiled a few things to keep you busy until I get my feet under me and start writing again.
The Genius Notations of Hamilton
If you're a theatre person, you've already heard of the musical Hamilton, the hip hopera biographic of that dude on the ten dollar bill that got killed in a duel. And if you're not a theatre person, you've probably heard of it too. But have you read the annotated lyrics on Genius? Genius.com, the site where users and artists can footnote the lyrics of pop music, has done an utterly epic job of breaking down the musical line by line. Even before this particular cultural phenomenon hit the scene last year, Alexander Hamilton the person was enjoying a slight resurgence in admiration after years of being eclipsed by the other founding fathers who were his ideological rivals (and incidentally, didn't die in duels). In the musical, all those old white dudes are played by young black and brown people. Even the women get a decent word in, which is saying a lot for both then and now. So now, A. Ham is basically a cult hero and everyone and their mother is interested in American history, which is nothing but awesome. (But I'd like to take a moment to remind you all that – ahem- I was into this time period before it was cool).
Anyhoo. Go check it out pronto. It will keep you busy for a while.
Just Mercy. Just Read It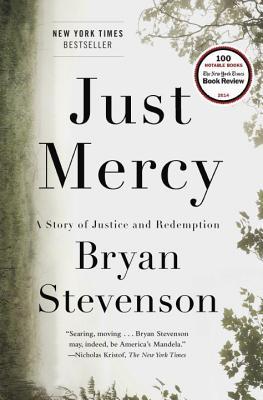 My current place of employment is having a one time campus-wide book club (how cute is that?). I don't get to participate, due to leaving the job and all. But I read the book anyway, and was really moved. In the broadest strokes, it's about the inequities of the legal system in America. The heart of the story centers on one representative example of a man who spent years on death row and was almost executed for a crime that mounds of evidence made clear he did not commit. There are a lot of people who won't even give the book a chance based on those two sentences alone. Don't be one of those people. Read it now–instant paradigm shift.
Bkr
Before it was stolen, I got to use part of a gift card my dad gave me for Christmas to buy a schmancy new beverage vessel. Everyone is into S'well but I went with a Bkr. The bottle is cool enough, but go check out their website. You'll kill an hour or two reading the wacko names and descriptions on all of the dozens of color choices, and laugh at the pretentious styling and captions of their promo shots. A sample: I only use Bkr on two occasions: when I am in love and when I am not. (Who are these copywriters and how do I get some of what they're on?).
Rearrange Furniture
Virtually, that is. The Icovia MakeRoom Planner allows you to choose a room design (or enter your own custom dimensions), enter all sorts of furniture pieces, and then move them around willy nilly. Endless entertainment and no scratches on the hardwood.
Check out my headshots
I guess this isn't really something to do, but lookee! I got new headshots!
I don't make New Year's resolutions, but if I did, they would be something along the lines of investing more in my acting career. I'm choreographing right now, taking an acting class, getting ready to start voice lessons, and have a big audition on Saturday (as if I didn't have enough on my plate). Also I plan to do Unifieds this year. New headshots were definitely in order.
It goes against my instincts as a feminist and a trained actor to complain about this, but I felt seriously old after these were taken. My previous headshots were only taken about four years ago–not a very long time–but I look very different. Not since infancy has my body undergone such rapid..er..revisions.
I had all this in the works before this new job fell from the sky and hit my Chicken Little head. Previously I would have put it on hold due to my ineptness at juggling too many large undertakings at one time, but I'm grabbing the bull by the balls, to put it elegantly. What with these wrankly-ass headshots, plus David Bowie and Alan Rickman gone in the space of a week, life is starting to feel short (it's getting dark…*cough*).
Or maybe I've just been listening to too much Hamilton.