Never fear, I'm cooking up part II of the ER beach body series as we speak. But in the meantime let's talk summer reading!
Completely by accident, I found myself reading four books at the same time that all had something to do with ghosts or other such ghastly creatures. And by an even greater stroke of coincidence, they were all good. Here for your reading pleasure are my reviews, in the order I finished them.
Archivist Wasp by Nicole Kornher-Stace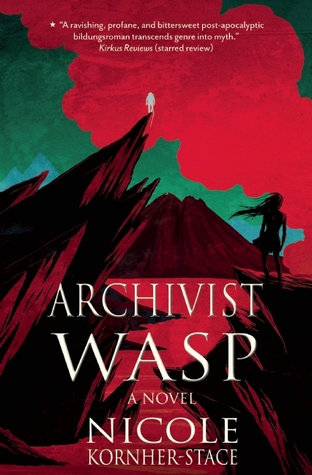 I received an ARC of this title from LibraryThing* and it was in – ahem – PDF format, which is worrisome. How good could it be if they couldn't even be bothered with epub at least? But I thought I'd give it a try since I found myself with the time, and it was a short novel. I was pleasantly surprised. This is a YA book set in a post-apocalyptic landscape, but it was quite unusual in all other ways. The narrator Wasp, has the lonely, undesirable, and psuedo-religious calling to catch ghosts and record their habits, a role she just so happens to keep by yearly fights to the death. When an unusually powerful and guilt-wracked ghost enlists her help to find the soul of his dead partner, Wasp wonders if the terrifying and beautiful underworld might just be a better deal than the raw one she gets on earth.  First, I'll admit there was a bevvy of technical tripwires (ambiguous transitions, a few loose ends, and a tendency to overuse interrupted and ellipsed dialogue) that detracted a bit from the novel's overall clarity. There were even a few outright errors (like misplaced pronouns) that made me wonder if I was reading some kind of beta version. But the dream-like underworld the author paints, each layer an entire universe utterly different from the one before and resting inside each other like nesting dolls, is amazingly creative. It's almost worth reading for that alone, but I think many will also enjoy, as I did, the slightly different take on the strong-and-prickly female lead. The lack of romance between any of the characters is a bit like stepping off a staircase in the dark only to find you're on level ground–disorienting, yet oddly relieving. The core themes that replace it–trust, teamwork, reliance and self-sufficiency–will speak to many.
Rating: 4 out of 5 stars
*The ARC copy was provided with no strings attached, except if I rate the book on the LibraryThing site I'm more likely to win books in the future. It's purely my choice to review it here. 
The Ocean at the End of the Lane by Neil Gaiman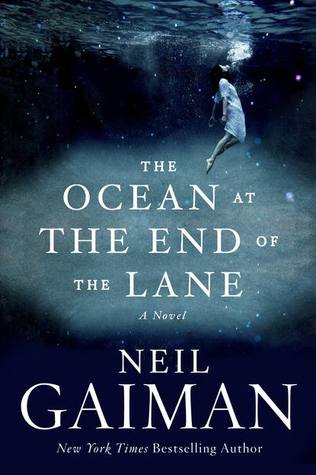 Neil Gaiman is one of those authors for me (like Carl Hiaasen, Christopher Moore, and sad to admit Jodi Piccoult) whose books I'm almost 100% guaranteed to enjoy. This one in particular though, by some kind of bookworm's alchemy I can only haphazardly summarize as "the right book at the right time," struck a cord with me. Not exactly a ghost story as much as a fantastical play on particle physics, Ocean tells the story of a boy (Gaiman gets inside a child's mind like no other) and his brief but formative run-in with the supernatural underbelly of his rural English home and the Hempstocks, a mysterious trio of women who have lived in the farm at the end of the lane for untold ages. If you think of piles of rags, bath tubs, and the color pink unthreatening, you won't after this little tale. Despite the overall pall of terror cast on the events of the plot, you'll find yourself feeling the loss of it keenly at the end (hope that's not too much of a spoiler). It's a gentle reminder that even our darkest moments are lined with unbelievable bright silver, and to lose one means the loss of the other.
I listed to the audio version read aloud by the author, and it was as perfectly digestible as the farm suppers the Hempstocks serve up. It's just a good, strange, wonderful story.
Rating: 5 out of 5 stars
The Winter People by Jennifer McMahon
Also a rural setting, albeit more backwater than idyllic, The Winter People is a little bit mystery and a little bit horror, which I think is the author's specialty (this is the first of her I've read). This book was chock-full of storylines and characters that pushed the book to the edge of chaos, but McMahon managed to herd them into a streamline narrative against all odds. The title refers to ghosts that linger on the land like the long New England winter. But the real danger is the temporarily resurrected dead–don't call them the Z word–that come from a cave in the woods. Despite the variety of chills that this book sends down your spine–including some pedestrian ones involving greed and guns–the real horror is the uncontrollable longing of the grief-stricken. More specifically, to what ends such longing drives the grieving.
There were a few things that didn't really work for me–the pocketed braid for one–but I chalk that up to reading it on a Kindle. I sometimes miss things in that format.
Rating: 3.5 out of 5 stars
A Sudden Light by Garth Stein
If it didn't say so right on the cover, I would never have believed this was written by the same author who wrote The Art of Racing in the Rain, so very different were the two. One thing I appreciated about this book, especially after Winter People, was the first person limited narration. Far from being constraining, it was revelatory to hear the story from one person instead of several, which if I'm being honest, is a device that sometimes feels like a cheat when it should have just been written in third omniscient. But I digress.
This was the most traditional haunting of the four books–straight up disembodied souls floating in secret passages. But in other ways the novel attempted to be unconventional, although its success in this is limited and perhaps in the eye of the reader. Again there are some parts that don't quite work for me, the biggest being the aunt–not her motivations so much, those I understood perfectly–more her personality and mannerisms. In comparison to the other characters it felt overly heightened, which is saying a lot when the other characters include a homosexual tree-hugging ghost. Despite all of that, I really enjoyed seeing the story unfold. The old house was a character in itself too.
Rating: 3 out of 5 stars
Read any good books lately?